Hey there Angel Protocol family! 2022 was a time to reflect, to redesign and to rebuild. It's now Feb 2023 and we're loaded with updates for you – the Angel Protocol development and product teams have been busy busy busy.
This is probably the MOST important update we have ever produced. It is not one to be skim read! 
What's coming up? Read on!
Donation widget

Religious non-profit pages

Gift cards

Yield and Fees
Marketplace page improvements

Infrastructure improvements

Fiat donations

Angel Giving!
Donation Widget: Mid-Feb 2023
Faster, better, easier: all of these describe the process of receiving donations, thanks to the donation widget.
Put simply, the widget, involving a short piece of code for non-profit website teams to use, enables nonprofits to accept donations into their Angel Protocol endowments directly from their website.
But more than this, a unique Angel Protocol touch – ANYONE will be able to create a widget that accepts donations to their favorite charity, add it to their own website and so increase the charity visibility to donors worldwide!
That's right: fewer clicks, more $$$ and donors stay right there on your site.
For something so small, we expect this to make a BIG difference to nonprofits and their ability to grow their Angel Protocol endowments.
Are you a charity on our marketplace? Would you like to be the first to test the widget? Get in touch ASAP by email. Beta testing next week.
Charity page improvements: Mid-Feb 2023
You spoke and we listened! Thank you to those of you who took part to the user survey organized last year. We're starting to implement your suggestions (and there's more to come):
We're adding the ability for organizations to display a tagline to tell their story briefly. This prime real estate will enable charities to tell a succinct message that resonates with potential donors.
To show where charities work, we've added an "active in" data point, distinct from the organization's HQ, to better identify an organizations' geographical footprint.
You'll also be able to write a lot more about what you are doing as a charity and who you are. Up to about 1000 words. That will be key in giving your potential donors a reason to donate. We've also got some great suggestions as to what text should go there to show donors just how impactful their donations could be.
Religious nonprofit organizations: Mid-Feb 2023
Religious nonprofit organizations will be available as their own category on the marketplace.
So donors can donate to their own local religious setting.
The benefit to Angel Protocol and the other non-profits on the marketplace? Well, they'll have further visibility to the large population of charitable givers who want to donate to their local religious setting, but also actively seek out other donation routes.
As we are fond of saying at Angel Protocol: win and help win.
Infrastructure Enhancements: Mid-Feb 2023
A quality-of-life improvement for our users! 🙏
With some behind-the-scenes magic, page editing and load times will improve across the board, with the introductions of an easy editing process. Importantly, no more need for 'proposals' and wallet submissions for simple tasks such as adding logos, text or changing a typo. 🔥
The loading experience should also be more fluid for anyone visiting charity pages. 
Pushing out these changes is a further step in our mission to make the donation process as frictionless as possible: the less users (like you!) have to wait, the better the experience will become.
Gift Cards: Mid-Feb 2023 🎁
Donors will be able to 'gift' crypto donations to friends and family using the JUNO network. Those 'gifted' can then choose who to donate to from the charity marketplace and receive a tax receipt if applicable.
Gifter – Choose how much to send. Choose who to send it to. Send. 
Recipient – Visits charity marketplace. Sees gift card emoji 🎁 and cash 💵 in their account (or adds the unique gift card code). Choose charity(ies). Donates. 
Simple! 
What's Next:
Fiat donations are coming 💶 💵 💷 . . .
We know a large number of our core audience is crypto-savvy and always will be.
For the legion of donors who aren't, donating to endowments will become dramatically easier. As they will be able to donate fiat (dollars, pounds, euros for example) to build a charity endowment.
In the interim, donors can buy crypto of their choice to donate right now using their KADO account, the integrated KADO widget and fiat of their choice.
Fiat donations unlock entirely new categories of givers who are keen to give into a charity's endowment but who don't usually hold crypto-currencies themselves
Yield and fees: End of Q1 2023
We have been promising more information about the yield to be applied to Angel Protocol accounts, and are very pleased to let you know that account holders will be able to choose between four different yield profiles, that use different elements of decentralised finance, and give a choice of both yield percentage and risk.
Example description and approximate rates.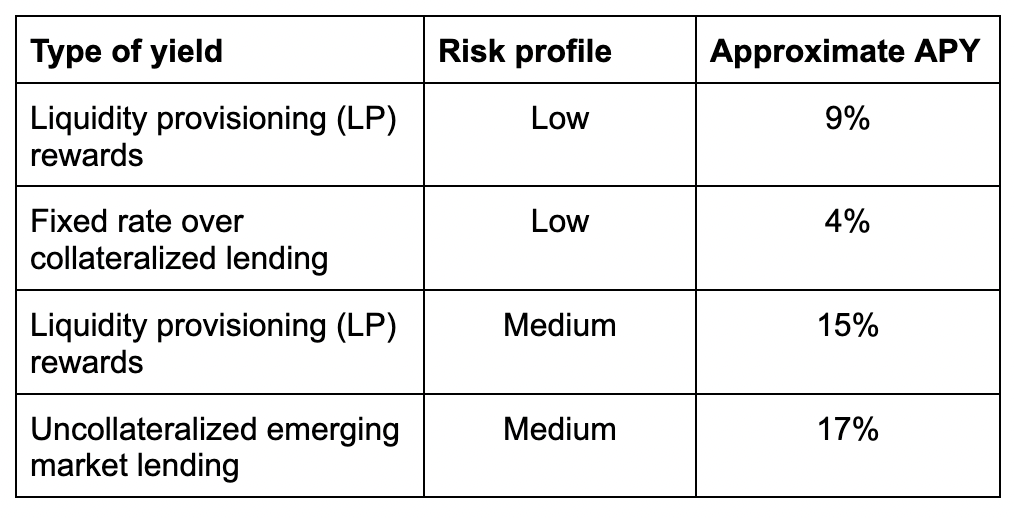 A dashboard will enable organizations to choose what proportions of their assets are allocated to which yield source. 
Following that, we shall then be introducing the fees, 50% of which will keep Angel Protocol going and 50% of which will provide incentives for donors, charities and 'stakers'.
The fees will be 1% p.a of the assets being managed and 1.5% of any withdrawal from the account. 
Remember, Angel Protocol is totally free to set up, has no yearly subscription charges and 100% of every donation goes into charity accounts to attract yield. 
New Year: New Name – Welcome to Angel Giving!
To reflect the philanthropic nature of its work, and the move to accept non-crypto donations, we shall shortly be renaming Angel Protocol as Angel Giving. 
The Angel Protocol name will continue to exist, as that part of the organization continues to work on furthering democratic access to financing options and funding across the world.
Angel Giving will focus on providing services to non-profits, working with the Angel Alliance corporate social responsibility partners and extending into services such as Donor Advised Funds.
We'll provide more details very shortly.